My dad was a commercial artist. For 50 years he supported our family by retouching photos with airbrush, for advertisements. He worked for agencies and he free lanced. He worked in Pennsylvania all my growing up years, and later in Tulsa and Oklahoma City.
While Dad was overseas in WWII, he added cartoons to the letters he wrote home. A friend saved those cartoons and suggested he might want to pursue art as a career. Those cartoons helped him get a place in The Art Institute of Pittsburgh. Because he was offered a good position in an advertising studio before he finished his course, he didn't graduate. But that didn't stop his learning and growing his talent.
When Dad's contemporaries faced a new innovation in photography and printing, they could not make the necessary changes and learn the new skills. I remember Dad taking a correspondence course when I was really young. He spent weeks practicing drawing straight lines, perfect circles, parallel lines, etc. Then when color photography was cutting edge, he had to learn to mix colors and apply layer at a time to get the right finish. He was sought after for his work, even when computerized retouching began. But eventually, the cost of computerized retouching was too much cheaper than what Dad had to charge for his hand-done work. Dad couldn't make the leap to art on a computer. But by then he was 70+ years old.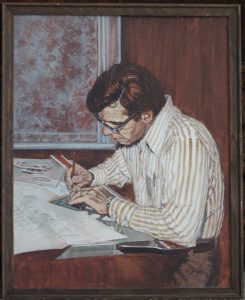 I watched my Dad work. He usually did any over-time work in a little studio he had made in their bedroom. He was so quiet, methodical, concentrated. All Dad's children learned that Dad would listen attentively to us while he worked. After a pause, in a few words he would summarize what we had been talking about. He gave us a word of wisdom, a different way of looking at the situation, or commiserate with us over some childhood woe. He was wise, unassuming, and loved us all so deeply. We learned the importance of keeping our promises from Dad and that anything worth doing takes time and effort to do right.
Dad also did a few pieces of creative art that are still in the family. He painted pictures on the wall above the cabinets in the kitchen of the house I grew up in. He was also a carpenter. He made a spoon rack for my spoon collection and a coat rack with a Bassett hound picture for our sons. All of his children have something from Dad's art.
One of my sisters was very good at art in high school. She made a trip with other students to visit the great art museums of Europe one summer. She did design work for a while before her children were born. Then she was always doing crafts and making beautiful things for her home and for gifts. In the last few years, she has been practicing sketching and painting. Some of her best work is beautiful portraits in graphite from photos. You can see some of her work at: Dawn Giddings
My youngest brother is a genius with perspective. He sketched from the time he could hold a pencil. Although he has never earned his living from art, he does commissioned pieces every year. He is quite creative with architectural drawing and has done some large works with many of the most famous buildings around the world. You can see some of his work at: Stephen Prophater
At least three of Dad's grandsons enjoy carpentry. One has made a career of his wood work.
Creativity through art and woodworking were just part of Dad's legacy. (More about his legacy in another post.)
Take a moment to consider:
Is there a talent or skill that many of your family members share? How do you see that talent? Does it encourage you to develop your talents or are you afraid you can't do as well as them and so you don't try?
I'll share more of what art means to me in another post soon.