Though I came from a creative family of artists, I never believed I could sketch. I was not an artist.
I knew I was creative, like with crochet. My Christmas crocheted snowflakes are mostly my own designs. I enjoyed the form of these snowflakes. But this wasn't art, was it?
I couldn't see colors as well as my husband. Without color, wouldn't anything I drew be just lines on a page?
I was full of excuses to not even try.
Then in the fall of 2017, I got the itch to try to sketch and color the fall leaves near my American home. I decided it was worth trying. My results weren't too bad, but they all looked flat. I couldn't capture their curly shape as they dried.
At Christmas that year, we had a party with some friends and neighbors. Mike started showing off my tiny sketchbook. I was embarrassed! What would they think? One of my friends asked me to bring my sketchbook and visit at her home the following week.
It turns out she was a design artist before her girls were born. Then she began teaching others to sketch and paint. She offered to help me learn. She agreed that the leaves looked very flat and said she could help me, but only if I would put away my colored pencils and practice with graphite.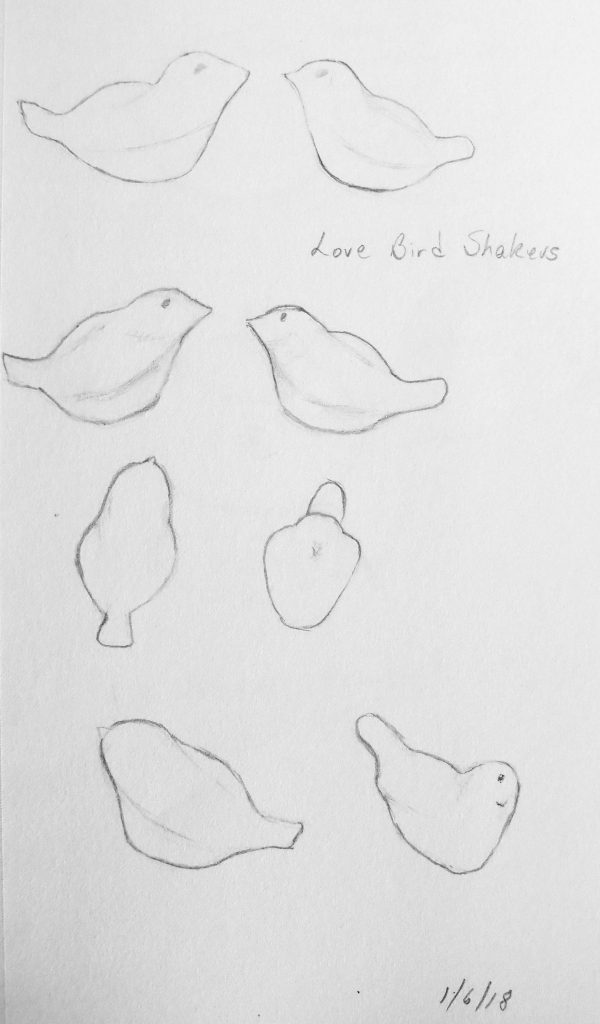 I was sad to put my colors away, but I really wanted to learn what she could teach me. We met about once or twice a month. Each time she showed me some new skill to practice until the next time.
Putting my colors away and working only in graphite showed me that even without color, my sketches could pop off the page. At the beginning of the year the little bird salt and pepper shakers look like they were cut out of cardstock. After a year of practice, the owls look like they could be used for the salt and pepper they were made to hold.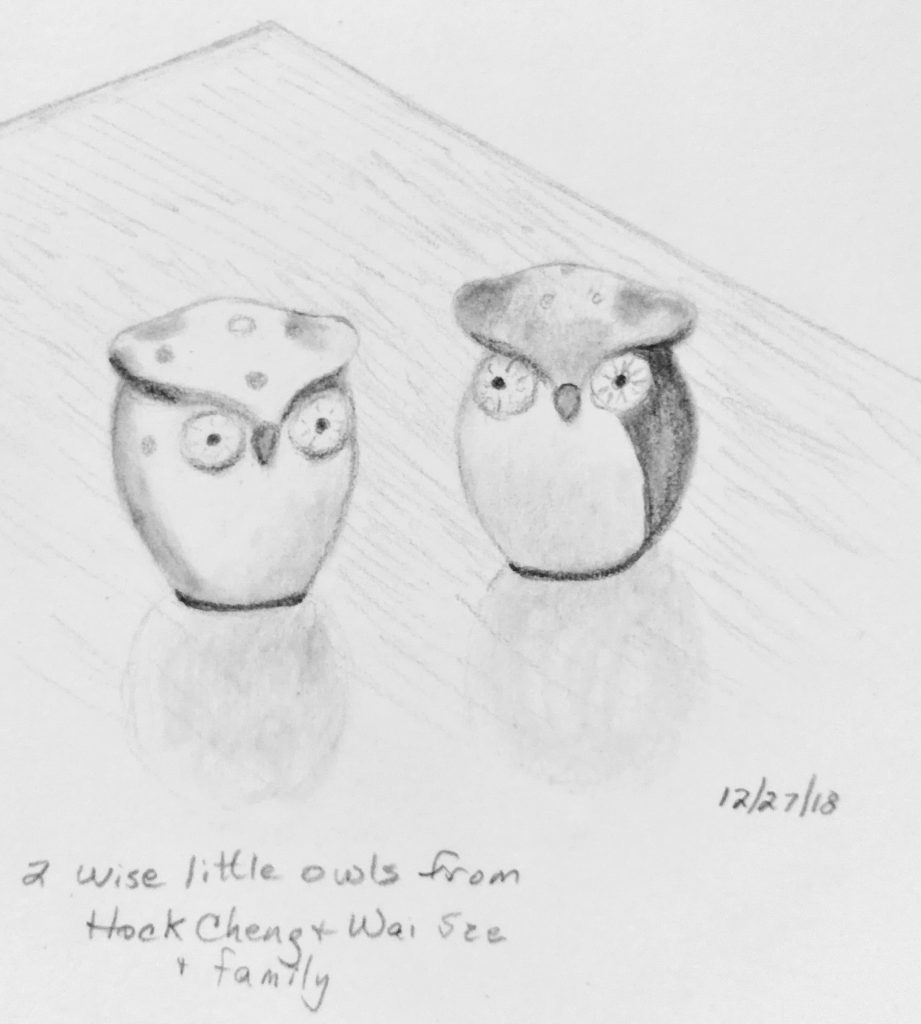 My husband added a pen with permanent black ink to my tools. I love the pen and want to learn even more about how to make real art with it. It helped me get over my fear of making mistakes. Since I could not change where the ink had touched the paper, I began to trust my strokes and embrace irregularities.
After nearly a year, my friend told me to start exploring with my colored pencils. She keeps reminding me of lessons I practiced with graphite. Each time she gives me another step I can begin to practice.
The most important part of this process of learning, though, has been in the discipline of practice. Taking time most days to choose a subject and putting pencil or pen to paper. Sometimes the result it good. Sometimes it needs little adjustments. Sometimes it needs to be redone over and over to get it right.
Mike is a great help and companion in this new endeavor. On evenings at home, while we listen to great music or watch a good movie, I get out my lap desk and sketch. After I'm part way done, I show it to him. He tells me how it appears to him. He makes suggestions. He encourages me. He often doesn't know how to improve the drawing, but he explains so well any problems he sees. I would not have improved so fast without his help.
The journey has just begun. I wish I had started sooner. But I have to be content to accept where I am and enjoy the process, not just the product.
Take a moment to consider:
Is there something you'd like to be able to do? Just begin. Try. Even if the result is not all you'd like it to be, would you like to learn more about it? There are thousands of helps available on the internet. Just type in what you need help learning to do and there will be many 'free' ways to learn. They may be free, but they are valuable if you use them.
This post is about beginning my art journey. I'll write more about what this practice has done for me in future posts.