Have you ever wondered if what you remember about yourself and your childhood or adolescence is accurate? I have! On my best days, I remember a happy childhood in a middle class family in a suburban home in the 50's and early 60's. On my bad days, I remember being an argumentative teen who made life hard for everyone in my family.
This week, I began transcribing letters I wrote to my family while I was an exchange student in Medellin, Colombia for three months. I was 15 years old and knew very, very little Spanish before I went. And I was a very new believer in Jesus.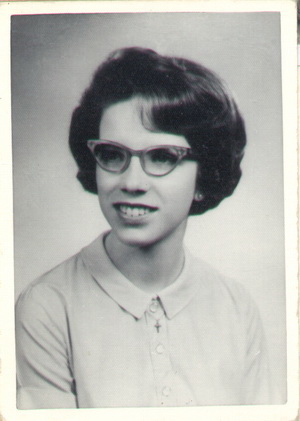 These letters were saved by my Mom and a cousin began the job of typing them. For many years they were in a scrapbook my Dad began for me. Then after we had a computer, I gathered both the typed letters and those that were still just as I had sent them- written with pencil on onion skin paper. For many years they were left in a file cabinet only to be rediscovered this past Fall. Just now, I'm actually getting them typed and saved in electronic format.
I am delighted to meet my 15 year old self on my first trip overseas and totally away from everything familiar. I'm being reunited with my Colombian foster family and beginning to learn Spanish and the customs of a different land.
I am seeing what a great foundation that has been in my life for all the time I've spent overseas. I was beginning to see that just because something is different, it doesn't mean it is bad or wrong. This has helped me enjoy new customs everywhere we have gone. I learned that even if I couldn't use words to communicate my interest in people, I could still show them they were important to me.
I'm seeing the beginning of my personal spiritual development. God was teaching me with only a Bible and an Episcopal Book of Common Prayer. I began to see personal applications for the Bible reading I was doing. God was teaching me to trust His Spirit to guide me even when I was not aware of Bible principles.
The first time I prayed in tongues was like the day of Pentecost. Mamá had a heart attack one evening. I was so concerned for her and sat on her bed, holding her hand and praying in beautiful words that I couldn't understand. The next day Mamá was well! She wanted to know why I could speak such fluent, beautiful Spanish last night and was back to my baby Spanish the next day. In just a day or so, I read about Pentecost in my assigned Bible reading. God assured me that what I had done in praying for Mamá was praying in tongues. This happened again a few days later when Johnny, the four year old son had a fever and severe ear ache. Mamá woke me at 2am to 'pray for Johnny like you did for me.' I did the same thing and Johnny was well in the morning. All praise to God! He used an untaught teenager to bring health to that family. He deepened my relationship with Him and reliance on Jesus through that experience, too.
After beginning this transcription and getting to 'see' my young teenage self, I wish I had kept journals throughout my life. I have a few fits and spurts of journals, but nothing as complete as these letters.
If you do not journal, please consider starting now. God may use this practice to enrich your life now and in the future. He may use those journals to bless your children too.