In our heads we know that since God is spirit, He sees in a different way from man. We can hide whatever we want to about ourselves from other people. But we cannot hide from God.
Sometimes we don't like that we cannot hide from God.
Psa. 139: 7-12 describes our feeble attempts to hide.
Where shall I go from your Spirit? Or where shall I flee from your presence?
If I ascend to heaven, you are there! If I make my bed in Sheol, you are there!
If I take the wings of the morning and dwell in the uttermost parts of the sea, even there your hand shall lead me, and your right hand shall hold me.
If I say, "Surely the darkness shall cover me, and the light about me be night," even the darkness is not dark to you; the night is bright as the day, for darkness is as light with you."
We know He sees our obvious sins. But He also sees our secret sins. These are the sins even our closest friend does not know. Sin always damages and secret sin damages our own souls. They may not be seen by others, but God wants to free us from their grasp too. We know God knows about them, when His conviction stabs us like a thorn in our shoe. We find mercy when we confess these sins. (Pro 28:13)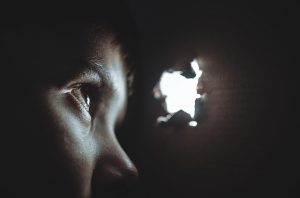 He sees us when we are tempted. Like a skilled manipulator makes us agree to something we had no intention of doing, the enemy of our soul tries to isolate us from support and render us too weak to resist. But Jesus was tempted in every way we are and will not let us be tempted beyond our ability. And he provides a way of escape. We need to ask God to show us the way of escape when we are tempted. (1Co 10:13)
The Bible shows us very good reasons we want God to see us like no person can see us.
Hagar was very glad God could see her! She was Sarai's slave and had been harshly treated by Sarai when she became pregnant with Ishmael. Sarai had arranged for her to get pregnant, but then was angry when Hagar looked down on her for her barrenness. Hagar fled into the wilderness. The Lord told her to return to Sarai and submit to her and He promised her that her offspring would be a multitude. And she named Him, The God Who Sees. (Gen 16:1-13)
He sees our tears and knows our pain. Even if the people closest to us cannot empathize with us, God sees and saves our tears in a bottle. (Psa. 56:8 ) And even if the tears are not stopped in this life, at the end of time there will be no more death, no more grief and no more crying or pain. (Rev_21:4)
He sees when we are lonely and depressed. He is our Comforter. He will turn our loneliness and depression into a way we can comfort others. He does not waste our sorrows. (2Co 1:3-4)
He sees us even when we cannot feel his presence. Many of the most sincere believers through the ages had periods when they could not feel His presence. He had never left them and He saw them and provided for them. Mother Teresa is one in our time who spent many years serving the poor and dying and not feeling God's presence in her own life. But He promises, "I will never leave you or forsake you." And He keeps His promises! (Heb_13:5)
He saw us before we were formed in our mother's womb. He has seen us grow and develop. He sees what age and use have done to our bodies. What we don't like, has never repulsed Him. (Psa 139:13-16)
He sees our thoughts and hopes and dreams. Others may not know what we dream about and our hopes for the future. Many of those God placed in us to give us a future to aim for. (Eph 2:10)
He sees our hard work. Some of us are given very tedious, repetitious work to do. We may never see any worth in that work here. But if it is done in obedience to Him, He stores up rewards for us in heaven. (Col 3:23- 24)
He sees where we go. He also sees our attitude as we go. When we are open with God and willing to do what He tells us, He will show us when we have a bad attitude and what we need to do about it. Wanting revenge or holding unforgiveness are just a couple of the bad attitudes we may have. God will not let us keep those and will help us know a better way, if we are open to Him. (Eph 4:21-32)
He sees when others take advantage of us, or persecute us. It is His work to vindicate us. In His time and in His way, He will give everything back to its rightful owner. (Isa_54:17)
He sees our needs. Why don't we pour out to Him what our needs are? He knows them before we ask, but He loves to hear us ask. (Heb_4:16)
There is nothing that pleases God more than when we take time to be alone with Him. He loves us to tell Him what is going on in our lives, especially when we listen to what He has to say about those things. He does not want us to be afraid to tell Him anything. When we spend time with Him, the troubles of this life seem much smaller and less important. We discover a new way to see when we see how the Father sees.
You may click on the link to have the Bible verses for your reference.