This section of my site will be photos of my art work and lessons I've learned as I sketch or paint. These are meant to be inspirational.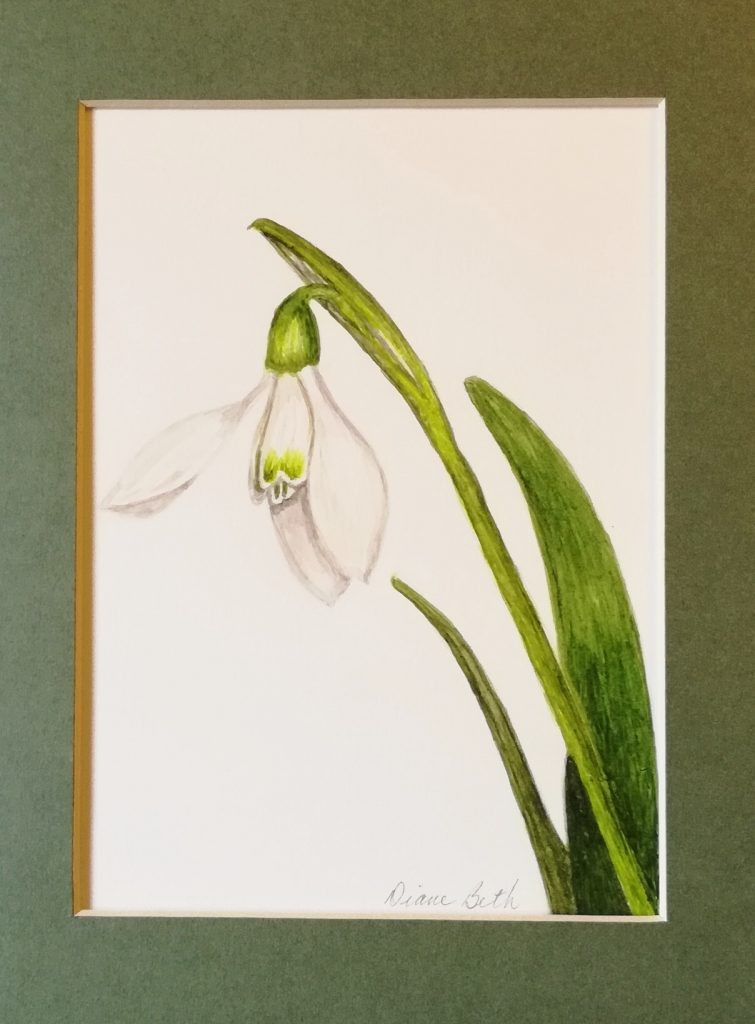 Being an American living in Malaysia for many years, January to March has always seemed a little strange to me. In America, 'cabin fever' is a real possibility because of snow and ice outside. Living in the tropics, there's never been a time when 'cabin fever' has been a potential problem. This year is different. Many people the world over are suffering 'cabin fever' no matter what the weather is like outside.
So, blending the idea of snow with tropical green growth, I decided on this little Snowdrop flower for my watercolor this week. I'm still working on getting white on white nailed down. Colors are easy and fun, but white is counterintuitive. I have to paint dark to see white.
Are we shining bright with the dark contrast behind us? Jesus said, '. . .let your light shine before others, so that they may see your good works and give glory to your Father who is in heaven.' (Matt. 5:16)
---
This is a Female Ruby Throated Hummingbird.
Share my amazement at what I learned about this hummingbird. It is so very little, about 3 inches long with about a 4 inch wingspan and weighing about one tenth of an ounce! The bill is about 3/4 of an inch long! Its heart beats up to 1,260 beats per minute with 250 breaths per minute, even at rest.
It breeds mostly in the Eastern US and SE Canada, but it migrates as far as Panama. This migration includes a 500 mile nonstop journey over the water of the Gulf of Mexico and the Caribbean. Only God could make this possible! It boggles my mind!
As I painted this bird, I was in awe of the fine details the Creator put into the pattern and coloring of her. Then as I read the description, I was even more surprised by the feat of design that makes its migration possible. And this is just one very tiny creature in all of creation! If God cares about this little hummingbird, imagine how much He cares for us!
---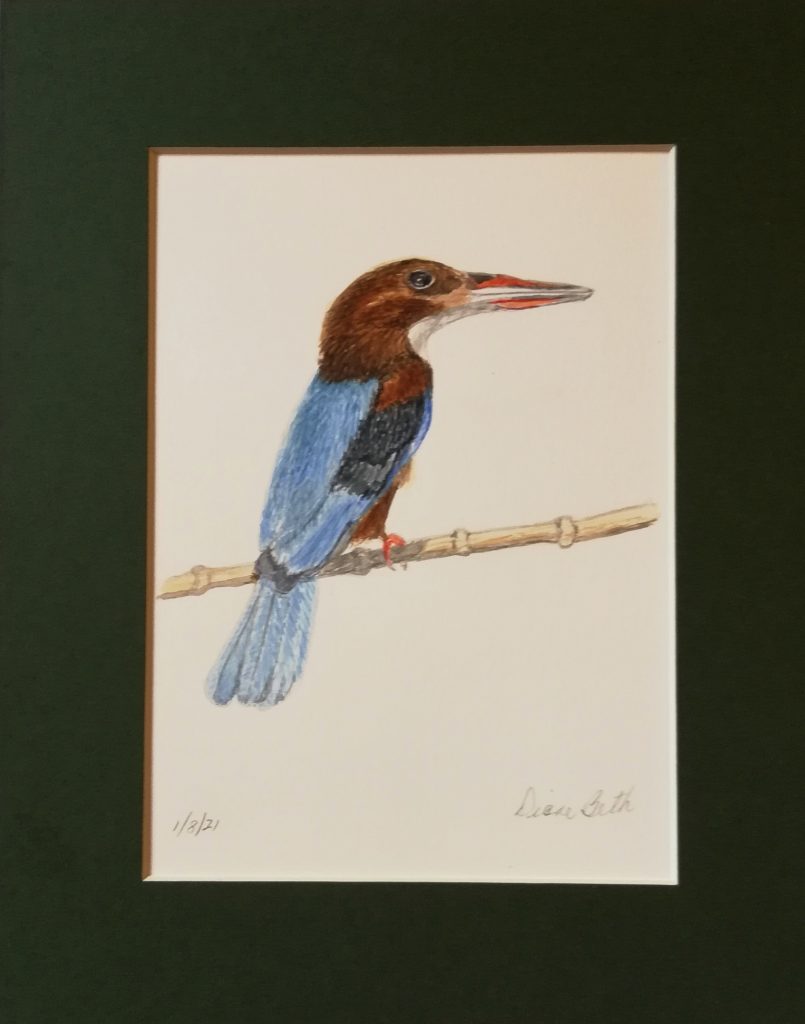 This first week of 2021 I was practicing brushstrokes and textures. Then I was itching for color! This is a White Throated Kingfisher. Since living in Malaysia, these have been one of my favorite birds. They like to perch on the top branches of trees that overlook a water source. When they are backlit, they look dark gray, but they are still easily identified by their posture and beak. When the sun shines on them, their gorgeous blue and reddish brown feathers shine and their beak catches highlights.
When we are backlit, our colors might look muted, but our posture and our words will identify us anyway. But when the Light shines on us, that's when our colors will shine and catch highlights.
In this new year, it is more important than ever before that we spend time solo with our God and learn His ways and His words to correct our posture and words. Then when the His Light shines on us, we will shine with His colors and highlights for all to see.
---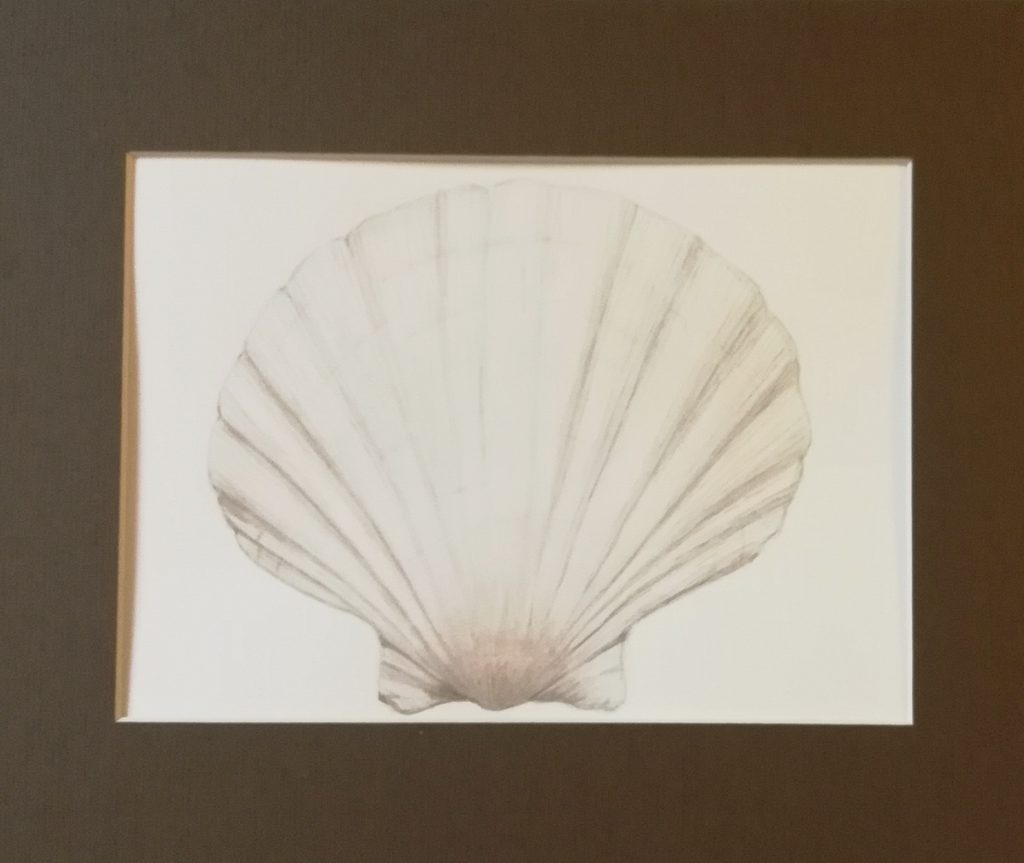 Painting white on white is actually painting barely tinted water on plain paper. Because our eyes understand, without being told, that what is deeper is darker and what is lighter is higher, we see this seashell's slightly rounded shape. The whitest spots are called highlights. That's because they are closer to the light source. Where there is a distinct line, the dark line looks darker because it is next to a lighter line. And the lightest lines look brighter because they are next to the darkest lines.
Our lives are like this seashell. When we go through hard experiences, disappointments, and failures; dark lines are drawn on our lives. But if we allow the Light of God to give us hope and faith and love, the next lines in our lives shine even brighter next to the dark ones. It is these experiences that shape our lives. There will be highlights, too. When God shines His Light like the radiance of the sun on a cloudless day, even the disappointments pale and we get a glint of the Son in our lives.
May we have many stories to share of God's light in dark times that have shaped our lives for His purposes. Be ready to share these stories. God will use you to shine His light on others' in their dark times.
---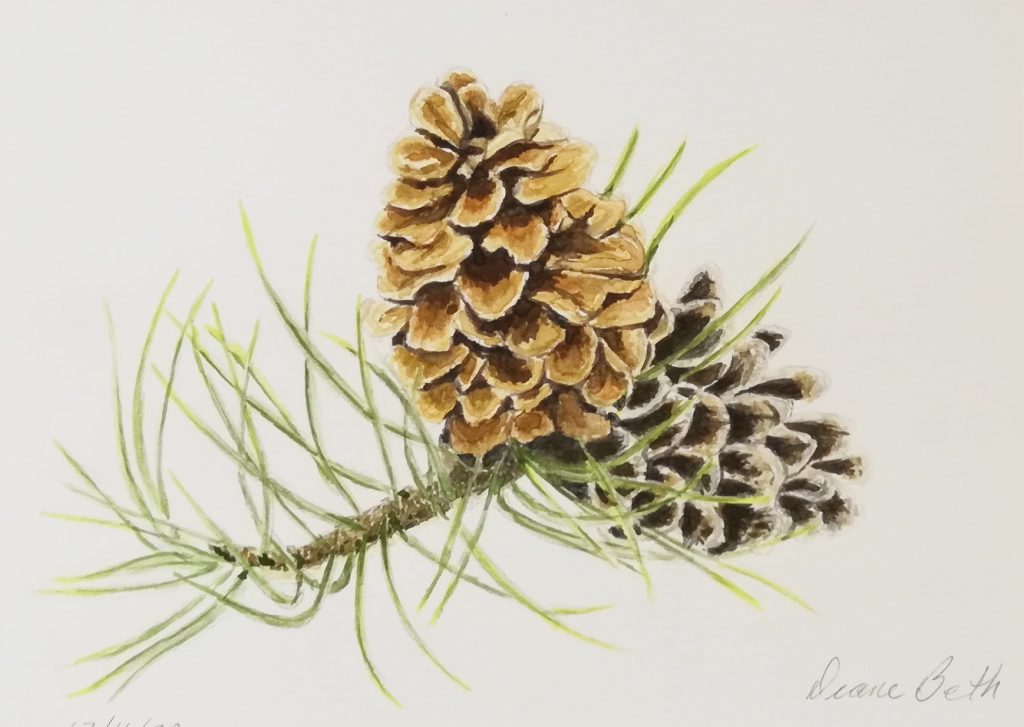 This is a Norway Pine branch and cones. My dad always chose a Norway Christmas tree. When we were very small, after we were asleep on Christmas Eve, mom and dad set up the tree and decorated it. What magic it seemed to their little girls to wake up to that gorgeous tree! As we got older, dad set it up early so that we could have the fun of helping to decorate the tree. The luscious pine smell, the bright lights, and the Christmas carols all made it so special.
I thought the dark cone on the right was an old one or maybe it was just in the deep shadow of overshadowing branches not seen in the photograph. When I read about this tree, the unusual comment was that the youngest cones are a deep purple. They may stay on the tree for 2-3 years and get lighter color before they drop off. Since all the cones I've ever really looked at were the fallen cones, I just assumed they were always that lovely tan and brown.

Let's shine brighter and brighter as we rejoice in our Savior's coming! Let's show the world what true peace and joy look like in normal people who know His love and mercy.
---
I finished the Poinsettia in watercolor this week. I looked at all those red leaves and wondered how they could all be red and yet each stand out individually. Thank you, Anna Mason, for showing me the way to do this.
Since this is the "Christmas Plant," I want to share my thoughts about this. Like the Poinsettia plant, Jesus was One, but with many similar, but distinct expressions. We know him as Saviour, Redeemer, King of kings and Lord of lords, Healer, Friend, and Brother. Isaiah calls him Wonderful Counselor, Mighty God, Everlasting Father, and Prince of Peace. He was known as a Friend of sinners and Lover of our souls. He said about himself that he is the Way, the Truth, and the Life. Every one of these names and expressions and many, many more are a part of the whole of who Jesus is.
As we enjoy remembering Jesus' birth into this world, let's ask Jesus to show us another dimension of His life impacting our life and our world.
---
I'm always fascinated by the poinsettia plant. They always appear around Christmas time in the US. With their bright red and dark green leaves they are the perfect decoration.
In preparation for a watercolor of these gorgeous plants, I chose this group to render in graphite. It is a fun challenge to make all the curves and crevices and values show in shades of gray.
Do you feel like your life right now would be best described in shades of gray? In shades of gray the deep crevices and the highlights stand out in good contrast. The highlights shine even brighter because the veins are quite deep. Those veins feed all that shows in your life. Don't despair, in light of eternity, the beauty of your life is shining in bright, glorious colors.
---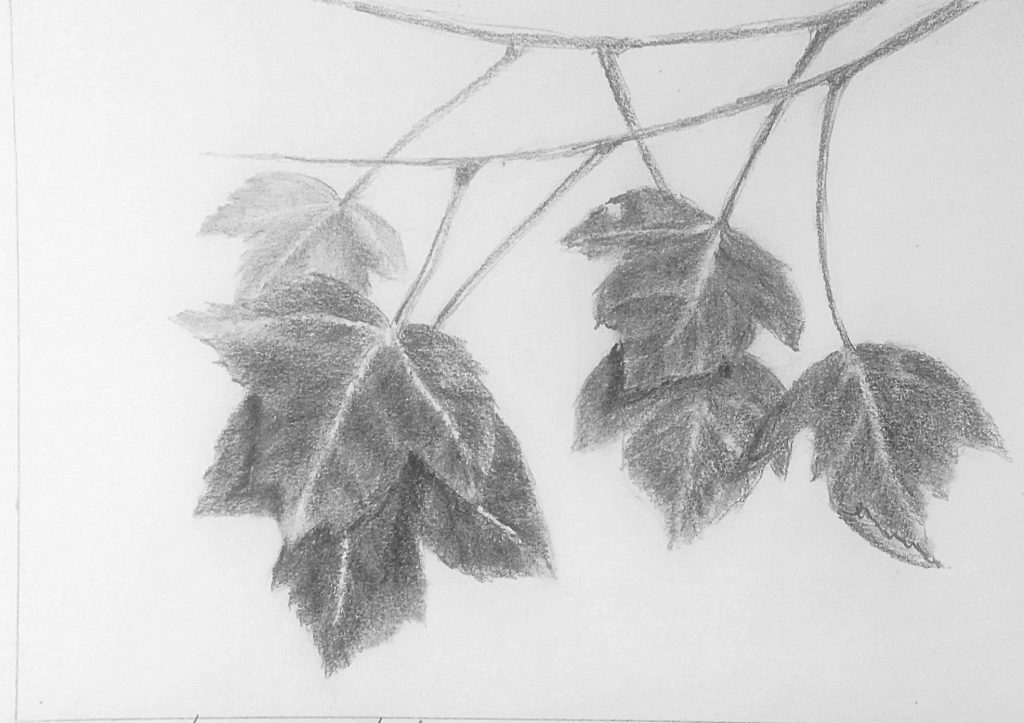 Three years ago I started trying to capture Fall leaves on paper. They looked flat and uninteresting. I practiced in graphite, then colored pencils, and now in watercolor. This week I did a graphite study of these leaves first to see how to give them life. Though watercolors gave me even more flexibility than the graphite, I still really like the graphite study.
Do you ever wonder if you are growing in your faith and practice? I remember a time I told God I didn't think I had changed at all and He showed me graphically. By the end of that day, I cried out, "What is wrong with me? Why have I been so horrible to my good friends?" In my heart, I felt the answer. "I let you live today, just like you used to be. Now do you see you have grown?"
God gives us many opportunities to practice and to grow and to change into His image of us. Just as with practice these leaves look more like the real thing, with practice our lives look more like the real thing God has planned for us.
---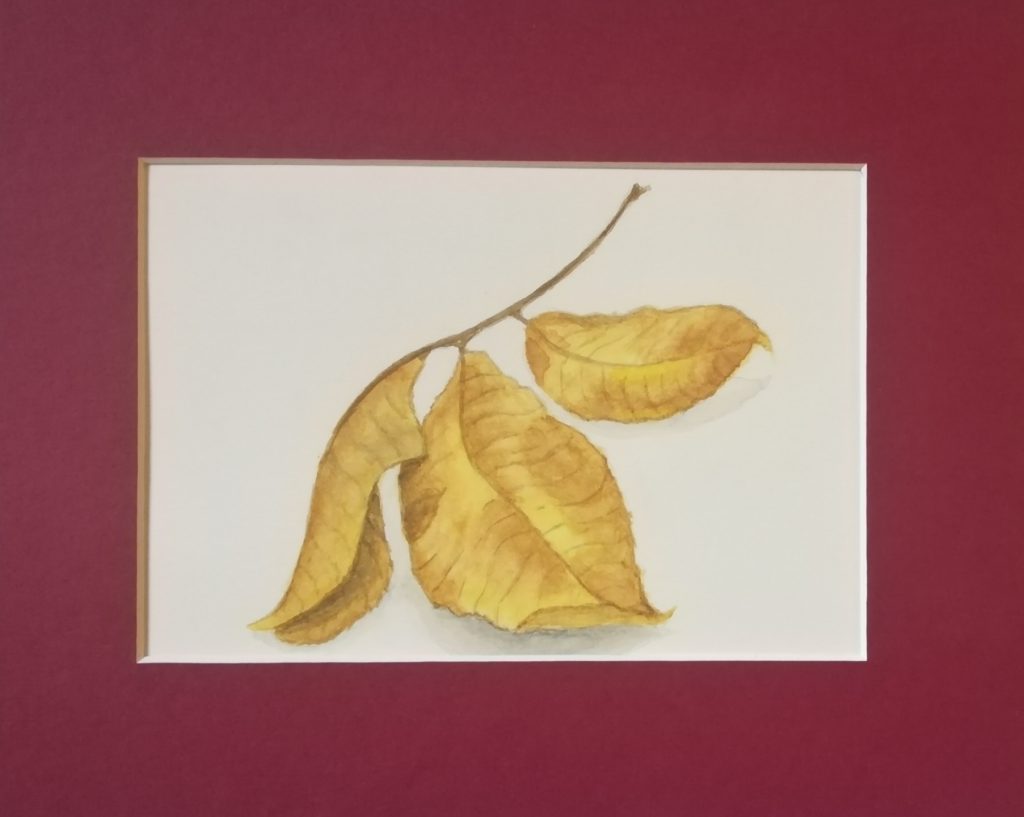 These are Hickory leaves. This is the second time I painted these this week. The first time, I did not get the curves correct and as a result the left-hand leaf made no sense. I tried to 'fix' it a few different ways, but it was not going to work. So, because I loved the shape and the colors, I tried again. I used that first attempt to practice some other techniques. I learned some things that work and some that don't. It wasn't wasted.
I am so thankful we serve a God who gives us a second chance, and a third and a fourth, if we need it. He does not just ball us up and throw us away when we fail. He doesn't berate us and belittle us.
So, what do we do when we have done it wrong? We humbly admit we failed and ask our Father what He wants us to learn from it. There is no experience in our lives that is wasted. He makes all things work together in our lives to help us fulfil His destiny for us. He is right there beside us, urging us on, and helping us wherever we are just too weak.
Are these the last Hickory leaves I'll ever paint? I doubt it! Will I more carefully look at the shape and curves? You bet I will! Am I a step further in my walk with God as well as in my art? I'm sure of it. How about you?
---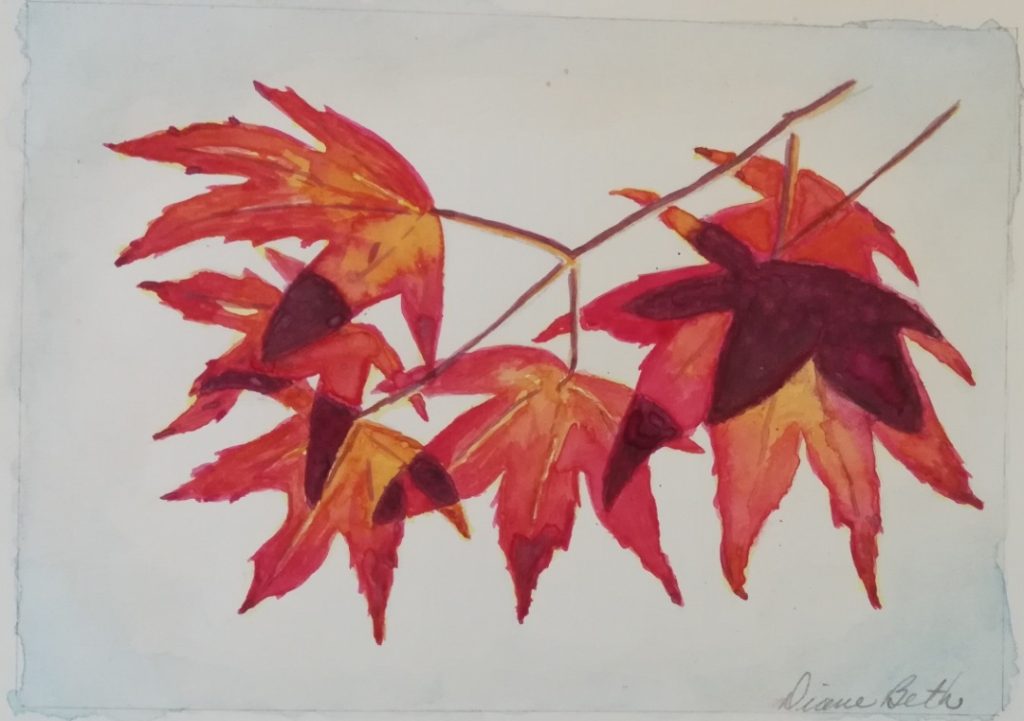 These bright red maple leaves were my practice with a tutorial. The overlapping leaves were the big challenge. I'm not satisfied, but I will try to do better some other time. This is a time of lots of challenges. How are you coping with your challenges? Some challenges are like these leaves were for me. They don't really matter. But, if your challenges have serious consequences, please reach out to someone to stand with you for support and prayer. They may not be able to change your situation, but knowing you are not standing alone is a great comfort in itself.
---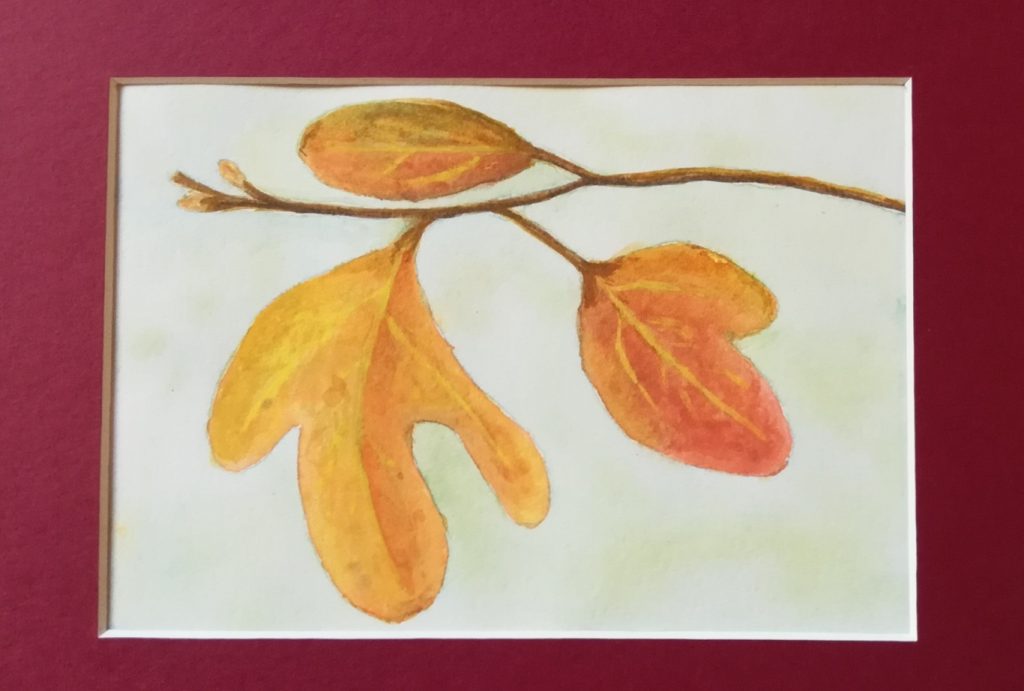 Sassafras. As a Girl Scout, I learned about the Sassafras tree. All three shaped leaves grow on these trees. Many times, all three are on one branch, like this one. The root of these trees can be boiled to make a tea that tastes kind of like root beer.
A lesson from the Sassafras tree
Every family has characteristics that outsiders easily recognize as belonging to that family. Perhaps its coloring, eye shape, height, or the way they walk. Some talents are passed down through generations, too. But then every individual in that family has their own distinctions. Sometimes those distinctions make us feel like we don't really belong to the family. Sometimes they make the other members uncomfortable or jealous. Like the Sassafras tree celebrates its variety of shapes, let's enjoy each other's differences. And as the Sassafras has a similar hue, let's blend and enjoy being a family. 
---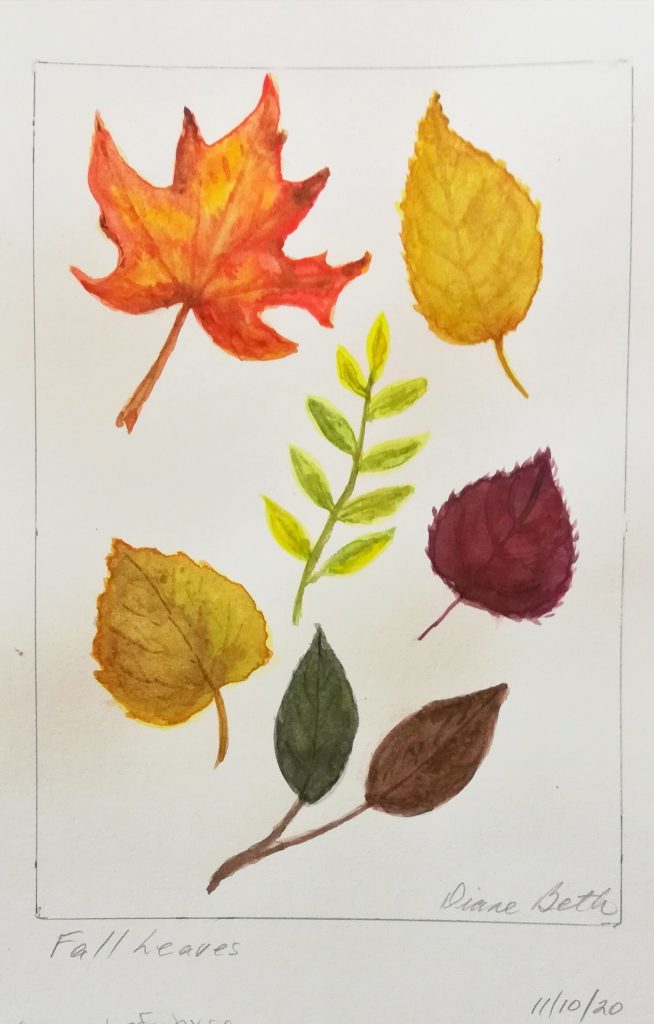 I love the Fall season and am using it to learn new techniques to add color. This is called wet on wet.
When our youngest son was a preteen, he learned about fractals. These are mathematical concepts that can describe a design. A fractal is a never-ending pattern. Fractals are infinitely complex patterns that are self-similar across different scales. This concept helps to explain why we can say that this is a maple leaf, although every maple leaf is different. The design or pattern is the same for every maple leaf. I see the hand of the Creator in this. He did not make a chaotic world for us. It is a complex world, but the natural world has order and design. Life would be impossible in chaos.
---
Fall colors in America are one of the ways God restores my soul. They have always been something I looked forward to and feasted on while the season lasted. Since I can't be there to see the colors this year, God has made it possible for me to create some colors and enjoy the Fall season at our home away from home.
These are my first practice of watercolor Fall leaves. I hope to do lots more of this type of painting as the season progresses. God made our eyes to be able to see a wide range of colors. I am so thankful I can see colors and I'm growing in my ability to match colors. What a delightful treat God's beautiful creation is, even when it is getting ready to rest in shades of black and white.
---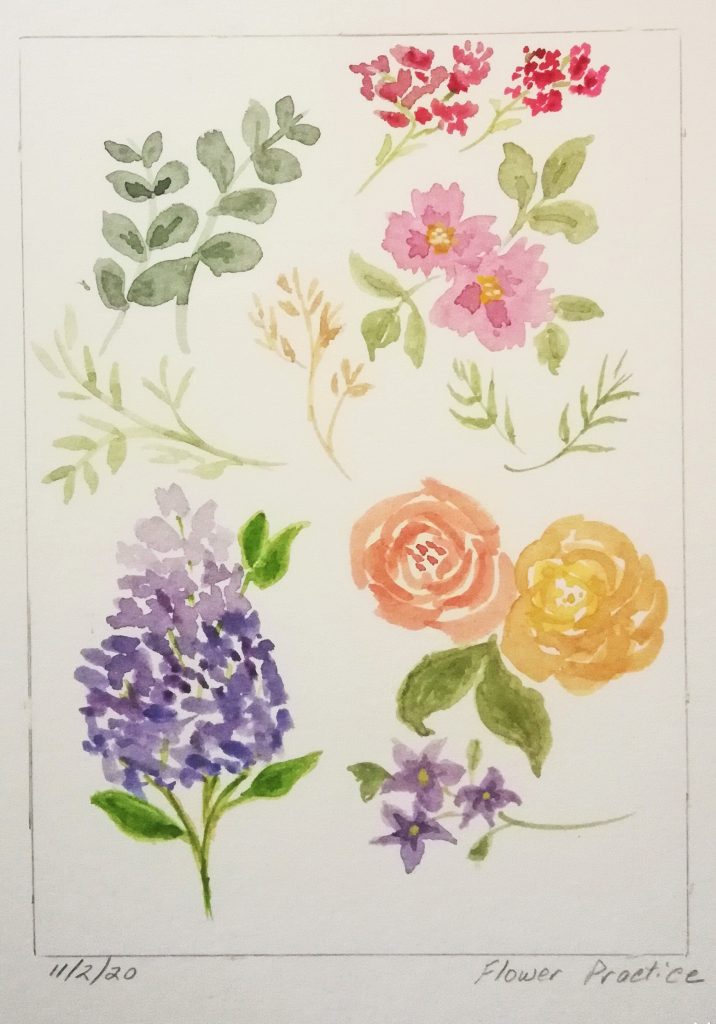 Yesterday I played. I usually strive for my art to be realistic. I've taken lessons from botanical artists and practiced seeing and showing the details accurately. This time I was just playing with my brush and colors. In a strange way, these are more accurate to the way we usually see the flowers around us. We don't get out a magnifying glass to see each vein and nick of each petal. We see color and lovely curves.
Sometimes we fret too much about the details in our lives. Some may worry about their wrinkles and try to cover up the effects of time. Others worry about what they said and whether they offended their friend. There are those among us who need to organize their day and tasks to the minute.
Most everyone around us sees the overall picture. They respond more to our usual atmosphere of joy or sadness. They remember the things we did for them more than the exact words we said. Let's worry less about the little things and not forget the important ones.
---
These Desert Roses bloomed on one of our neighbor's potted plants. The pot had the thick stem for quite some time with an occasional leaf. Then the first flower bloomed and the next day the second one did. They lasted just a few days and now the plant is back to just the big stem and a few leaves. I'm so glad we got plenty of reference photos while they bloomed. These blooms reminded me how most of our days are ordinary. We see green leaves and the foundations of our faith may be getting stronger, but not much color or special beauty in the ordinary. Then there is something special for us to do and we bloom. It may be for a long or short season. We don't control that, but we should enjoy and share it. I've written about the ordinary on my blog. You can see more on "Ordinary" by typing it in the Search Box.
---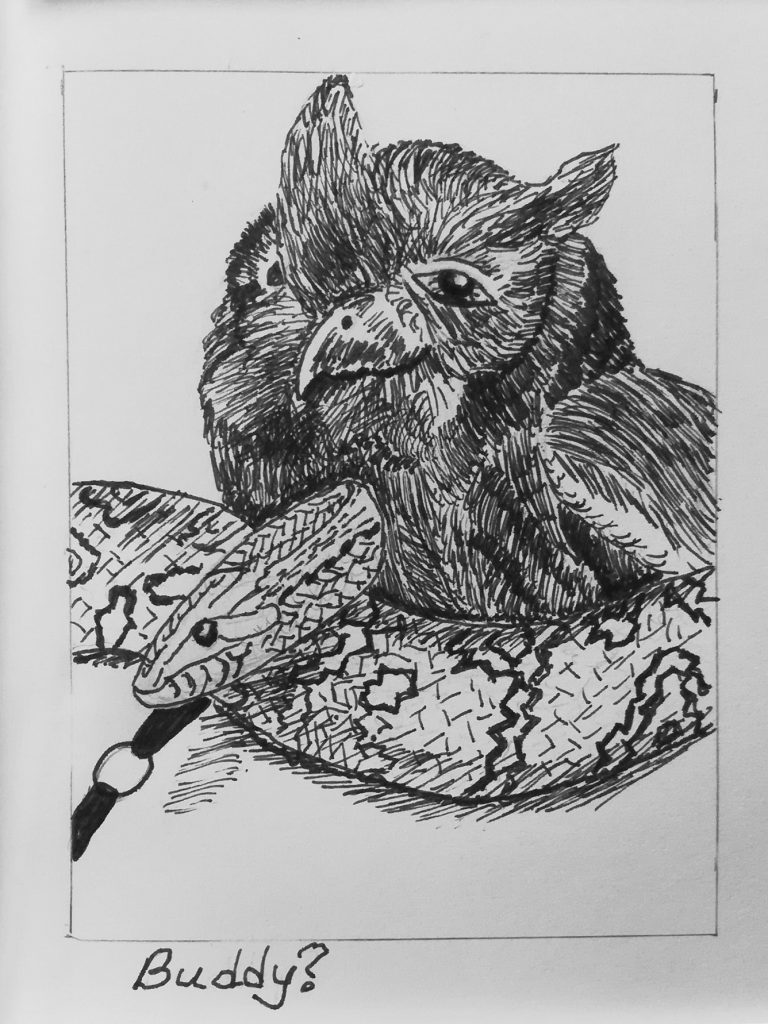 One of the InkTober prompts this week was 'Buddy'. I didn't like any reference photos I saw that day. Then I just happened to see this photo on another day. The owl has a leash! It apparently is an owl in captivity while it heals from an injury or is to be trained for hunting or something. Then this constrictor snake seems to be giving him a hug?!
To me it seemed to illustrate how we can be relaxing our caution when we're cooped up and apparently have no threats near us. Then slowly, we sense we're being hugged. It feels kind of warm and cuddly at first. By the time we realize we've allowed the enemy to surround us, our escape seems almost impossible.
I don't know what your particular threat may be. But don't give into it and don't enjoy its hug. Use your wings of prayer and praise and flee that serpent!
---
It's Fall and time to think about harvest! What better symbol for harvest is there in America, than the pumpkin! I had been wanting to do a more extensive painting for fall than just colored leaves.
Our God has blessed us abundantly! We may be isolated, but He hasn't forgotten us! He has provided so much for us! Let's give thanks for His gracious gifts and share with those less fortunate than ourselves!
---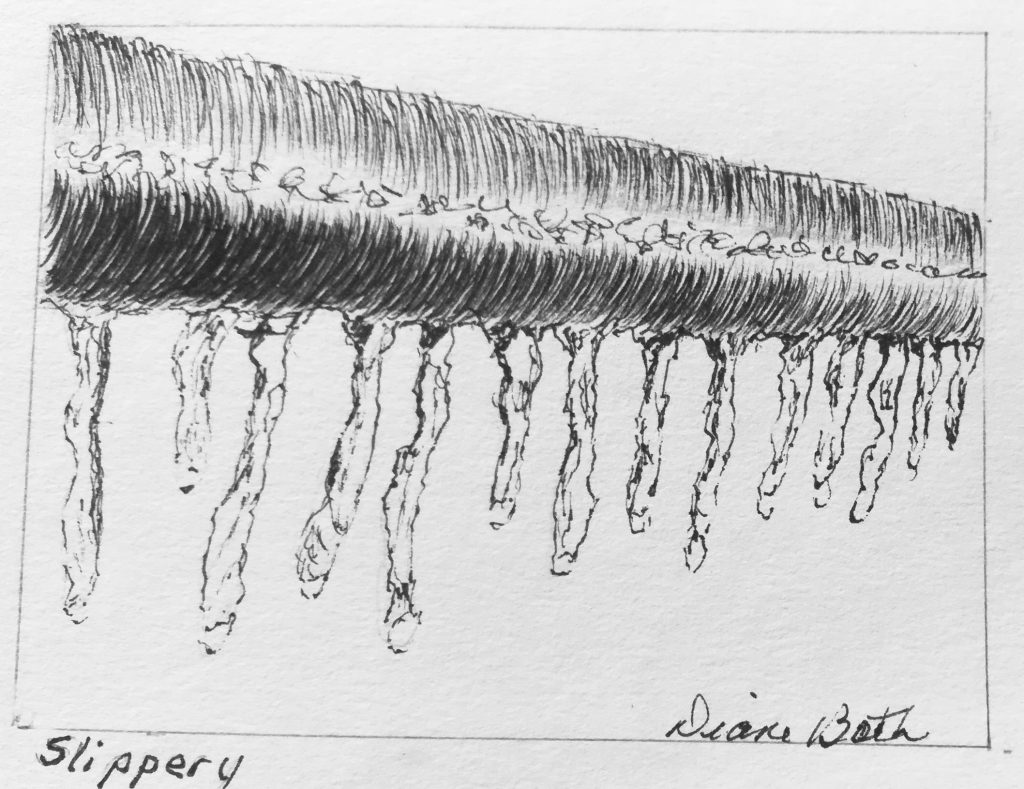 The Inktober prompt was 'Slippery.' What can be more slippery than ice? If you watch the news, even in small doses, you may feel like we are on a slippery slope. The only way to stand on ice is to have reliable support, like a railing that cannot move. Our only reliable support in the current slippery slope is our faith in One who holds our hand.
Psa. 139:7-12- Where shall I go from your Spirit? Or where shall I flee from your presence? If I ascend to heaven, you are there! If I make my bed in Sheol, you are there! If I take the wings of the morning and dwell in the uttermost parts of the sea, even there your hand shall lead me, and your right hand shall hold me. If I say, "Surely the darkness shall cover me, and the light about me be night," even the darkness is not dark to you; the night is bright as the day, for darkness is as light with you.
He knows and He won't let go of us.
---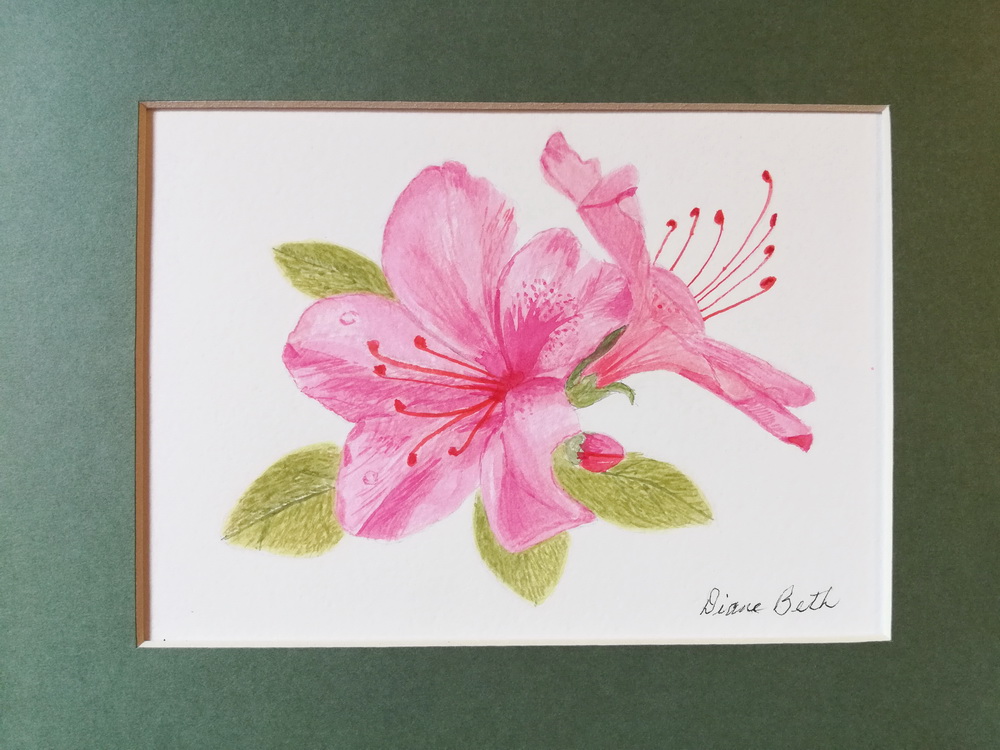 Mike took the photo of these Azalea blooms last year when we were in the States. I'm spending time every day on pen and ink, but I really wanted to also paint a flower. Mike helped me choose this one.
It seems like we cannot get away from bad or discouraging or frustrating news. I'll bet you get weighed down by it at times too. I'm not struggling with my faith, but I am struggling with my emotions. These glorious blooms, bright and cheery and fresh helped to lift my emotions. I smile every time I look at them, I hope they help you smile too!
---
The Inktober prompt was, 'Bulky.' When Mike showed me the picture he took on his walk, I knew this would be my 'Bulky'. I don't remember seeing a snail climb a tree before. I can't imagine how hard it must be to carry that Bulky shell up a tree! Snails are also known for being slow! So my thought today is that even when our burden is 'bulky', speed isn't what is most important. Continuing to do what is right and good, blesses our family and friends, honors God, and will be rewarded.
---
This is a peach using Anna Mason's tutorial. For those of you who have never eaten a peach, there are two ways to eat them. My preferred way is a good wash and bite! It is a sweet soft flesh with just a slightly sour edge. Mike only likes them if I peel them first. Why? Because he cannot stand the fuzzy skin. We both like them sliced with cold milk and a touch of sugar. These can have a seed in the middle that the fruit is stuck to. But most peaches today are free stone. This type is the easiest to eat because the fruit doesn't stick to the seed.
This made me think about the way we can feel about people. Are we able to take them, fuzzy peel and fruit clinging to the seed, or only after they've had the fuzz and seed removed? Or maybe we don't mind the fuzz, but that seed is annoying. If we wait until the fuzz is removed, we may have to wait a long time. If we are trying to wait for the fruit to come loose from the seed, we may never see that in our lifetime!
I am thankful God hasn't given up on my fuzz or seed. He keeps refining me day by day, so my friends will have less reason to reject me. He has also given me lots of homework in accepting others just as they are. Sure, they may change over time, but if not, I'm learning not to reject them because of a little fuzz or clingy seed.
---
A friend sent me a gallery of beautiful bird images. I had to try this beauty in watercolor. This is a Lilac breasted Roller, the national bird of Botswana and Kenya. When I started sketching him, I could only see one foot and I couldn't see where the end of the twig was that he was perched on. When I discovered his name, I looked up info on him. He perches on the highest tip top twig he can find. He holds on with one foot. He is quite secure on the top of that twig.
Sometimes I feel like I'm hanging on by my toenails. This bird is fearless because he knows that if he loses his footing he can fly. If I lose hold, God has promised to hold onto me and keep me from falling. "So do not fear, for I am with you; do not be dismayed, for I am your God. I will strengthen you and help you; I will uphold you with my righteous right hand." Isaiah 41:10 NIVUK
---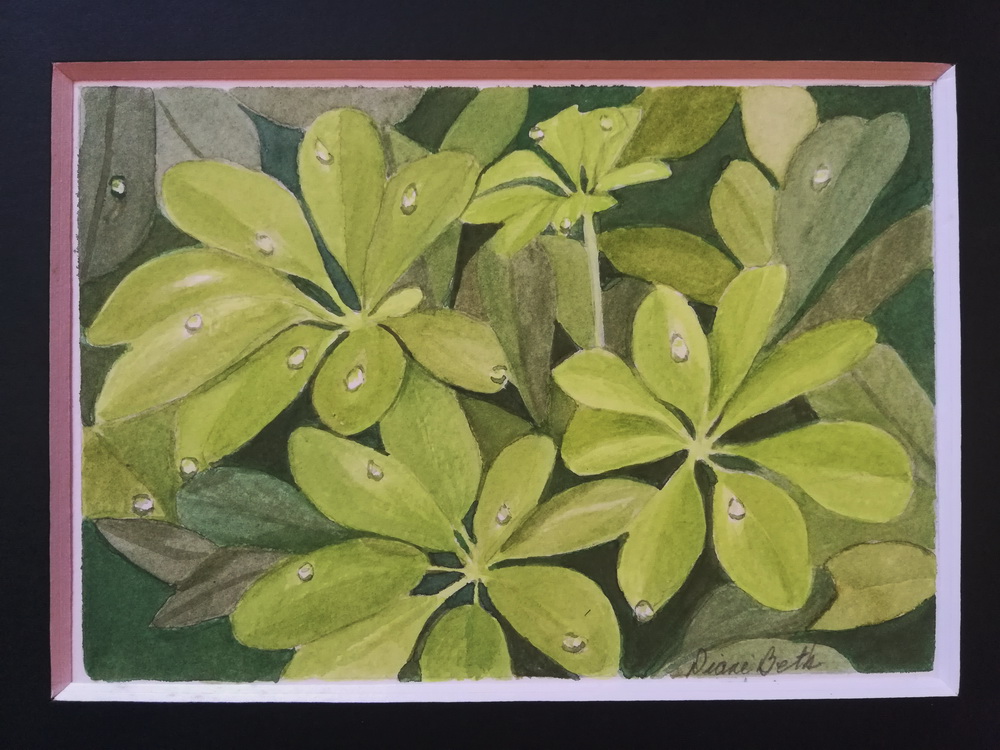 I am fascinated by the Schefflera plant. I used to have a potted one when we lived in the US. I loved the form and intense shades of green in the leaves. But my love of the plant grew exponentially when I saw it in the rainforest here in Malaysia. I've tried capturing this in graphite and in colored pencil, but this watercolor comes closest to my ideal image of this glorious plant.
The Schefflera is commonly called the Umbrella Plant. When viewed in the forest, it is easy to see how it earned that name with its spreading leaves and lush growth.
When we join together like the Schefflera in the forest, we can be part of a great offering of praise to God. Seen from above, we shine with His reflected light. And while we are doing that, we become like an umbrella spreading God's comfort to those who are weaker and in need of shelter from harsh conditions. Let's remember we are more than the sum of our parts when we grow together with those who love God.
---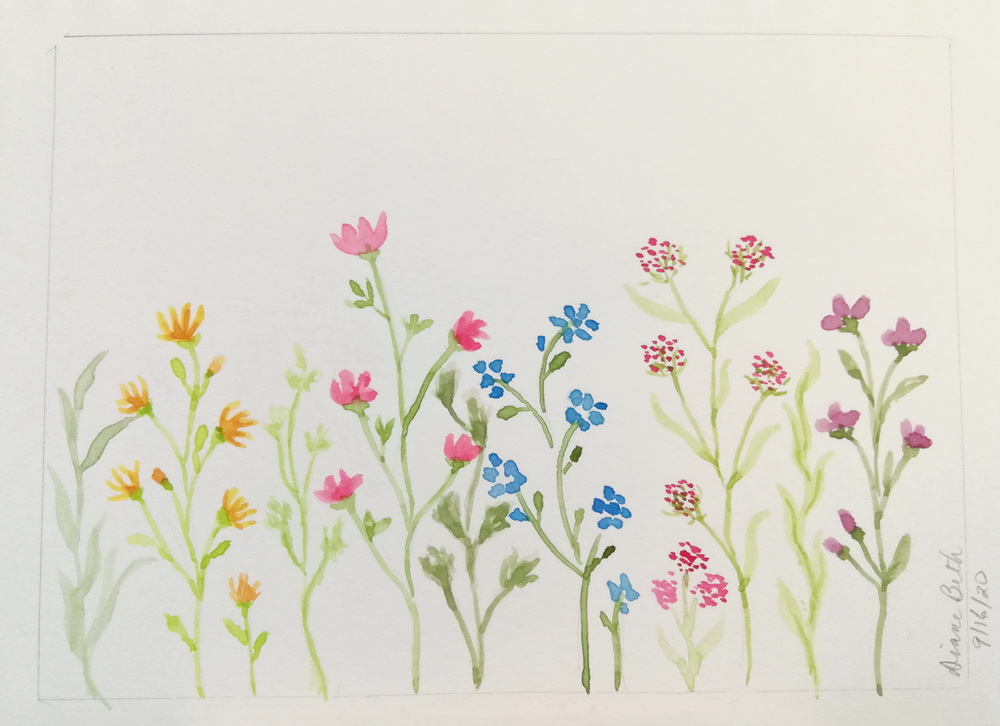 This was just fun! Wildflower Doodle. I spend a lot of time trying to be precise and attending to details. This exercise was one of delight in putting colors on paper with only a minimum of attention to how wildflowers grow in the 'wild.' This was mostly imagination and fun with colors.
I think God had FUN when He was creating. He must have laughed at how some of the animals and plants turned out. Someone asked Tommy Tyson, a wonderfully sincere preacher, "Does God laugh?" He answered, "I don't know for sure, but He sure fixed me so I could!"
If this little doodle doesn't make you smile, find something that does. I think it is time for even more than just a smile or soft chuckle. I think it is time for a good old-fashioned belly laugh.
---
Mike took the reference photo when we were walking in our local park. This giant and its nearby friends spread a canopy over much of our path. Mike had to almost hug the tree to get the shot.
Living in the tropics where one can 'plant' a stick and it will grow into a tree still does not prepare you to gaze at a giant like this without a sense of awe.
Our God is Mighty, like this huge trunk and spreading branches. And He is Merciful, like the leafy canopy that provides shade even on the hottest days. Let's give Him praise from hearts full of wonder.
---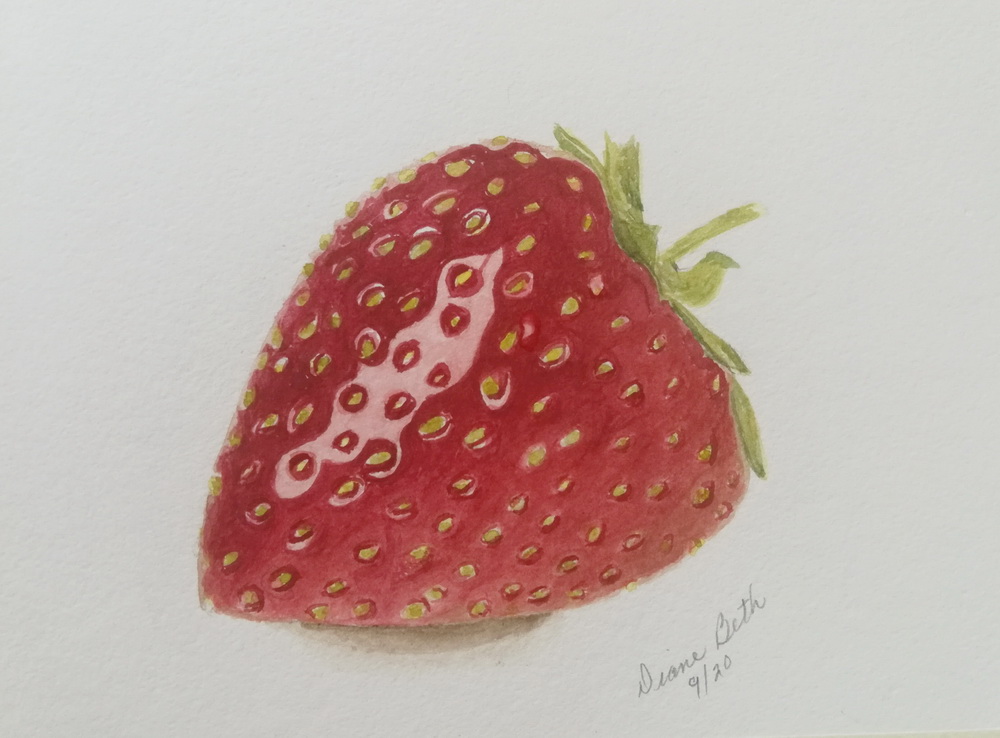 This is another tutorial exercise from Anna Mason. Wow, trying to keep track of those little seeds was a challenge I didn't quite meet. But overall, this strawberry makes me hungry for some strawberries and cream!
The lesson I see in this one is that we can focus so much on the tiny seeds that we miss the whole fruit. When we are looking for 'growth' or 'change' in ourselves or others, we may miss the blessings of lives lived for His glory and joy.
---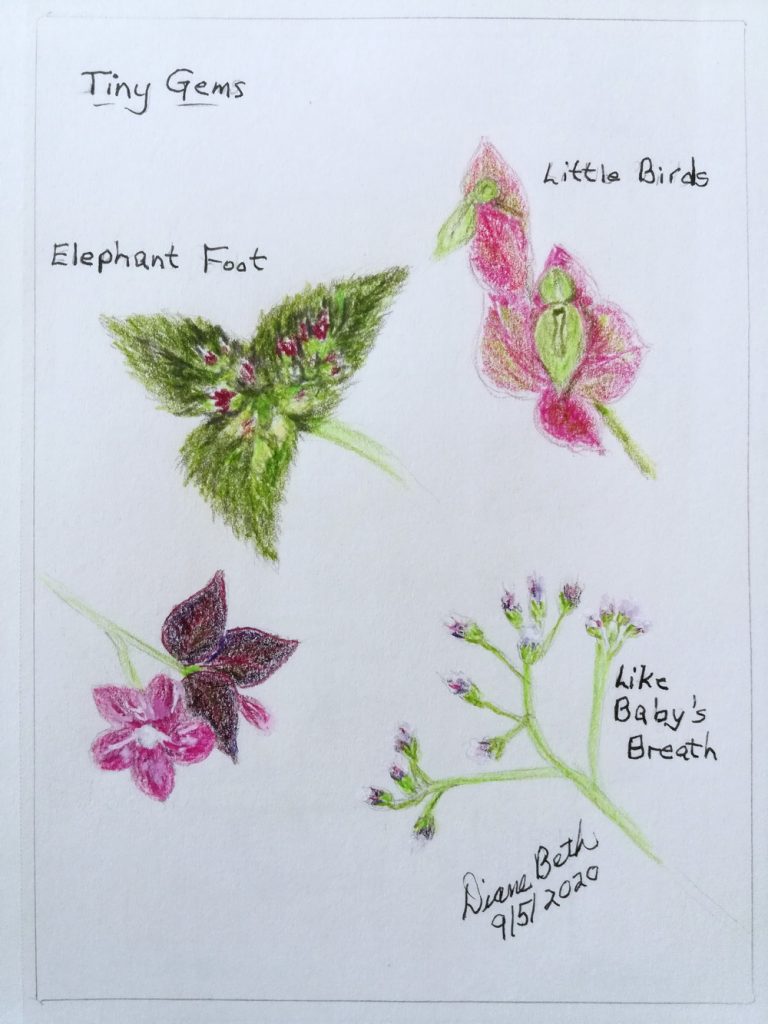 I call this sketch, "Tiny Gems". These flowers are about the size of your little fingernail. These are either weeds or wildflowers. They are only noticeable if you take the time to look for them. Our neighbor cultivates the Little Birds, but the rest were found along paths in parks.
Perhaps these tiny blossoms or their leaves or roots have a known reason for existence, but to most of us who notice them, they are just pretty and intriguing for their intricacy.
Like the leaves I painted last week, I see God's handiwork in these tiny flowers. Then I remember Psa. 103:15-18. "The life of mortals is like grass, they flourish like a flower of the field, the wind blows over it and it is gone, and its place remembers it no more. But from everlasting to everlasting the Lord's love is with those who fear him, and his righteousness with their children's children with those who keep his covenant and remember to obey his precepts".
We can just live our little life like grass, and then be blown away and remembered no more. Or we can honor God, remember his precepts and treasure his covenant with us in Jesus. We can know and share His love and live eternally with Him. Wow, what a big lesson from such tiny gems.
---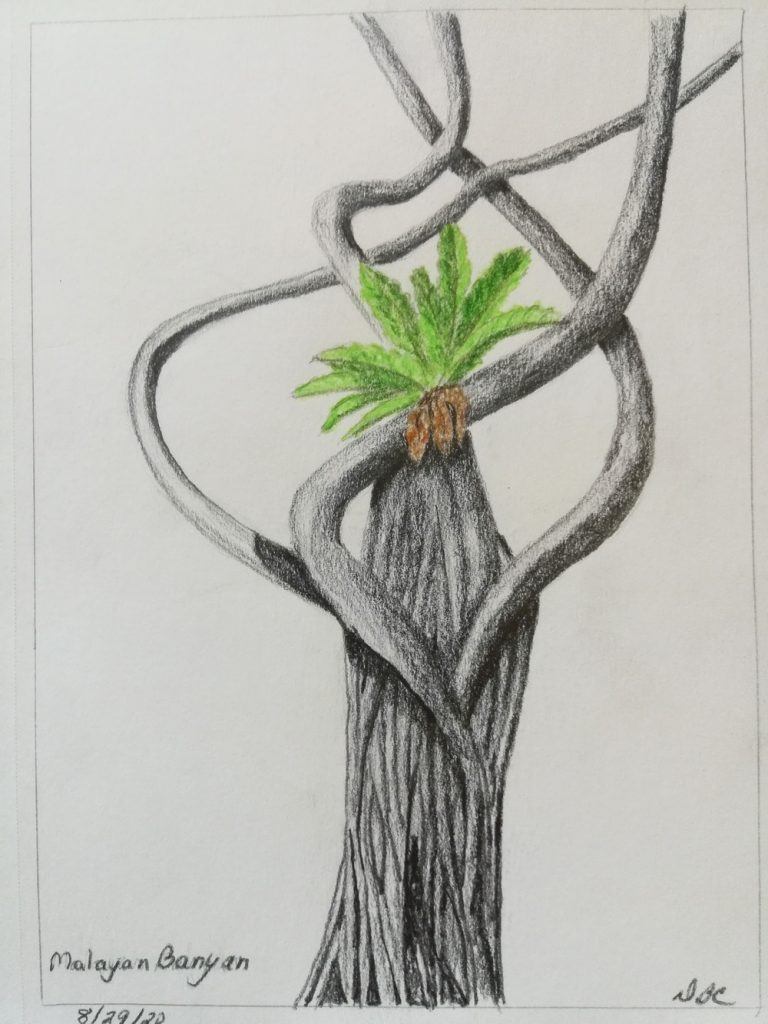 We just discovered Malayan Banyan trees when we found a park in a nearby neighborhood. This tree's 'trunks' stretch up and bend and twist into three different circles high in the air. The trunk and roots are all twisted and very difficult to distinguish from each other. Trunks going up and roots going down twist and hug each other.
This seems like a good picture of what our relationship with God should be. We reach up and gain strength. He reaches down and anchors us in His truth. As we bend and yield, we get stronger and stronger. While other trees may be toppled in a storm, the Banyan tree will stand.
---
Frangipani are a favorite garden tree here. Their blooms are from brightest yellow to deepest red or variegated like these. Their secret beauty, however, is their sweet fragrance after sunset. When other flowers close up to 'sleep' at night these beauties perfume the air to attract night-time moths.
Frangipani remind me to have the sweet incense of praise and prayer on my lips at the end of the day. It may be easier to praise God in the morning before the busyness of the day. But it pleases Him if our last prayers at night are ones full of praise, no matter how the day seemed to us. It may even please Him more when we praise after the hardest of days.
Psalm 141:2 (ESV) Let my prayer be counted as incense before you, and the lifting up of my hands as the evening sacrifice!
---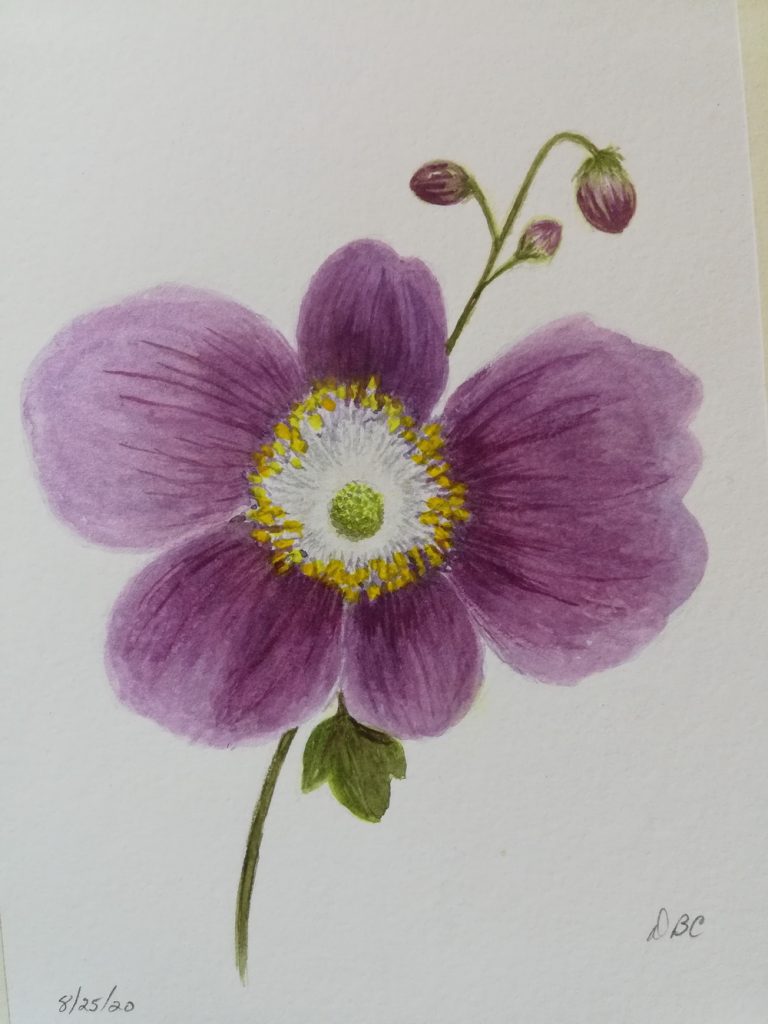 This Japanese Anemone was photographed while we were in Virginia last year. I used Anna Mason's technique with these reddish-purple petals and interesting center. There is a point in this process where the lightest tones are so light, they look like the paper and the dark tones are so stark and seem to be shaped all wrong. Anna calls this the ugly stage. But if I take a break, when I come back, I'm energized to bring those extremes to harmony. Then when it is almost done, I must leave it again to rest my eyes. If I don't, my eyes have difficulty focusing. When I come back from a rest, I can see clearly how to address the tiny details.
Does this seem like the 'ugly' stage to you? Are there extremes that seem to defy harmony? Or perhaps for you the problem is the details. You've been looking at the picture too long and your eyes cannot focus any longer on tiny things you could change.
Let's not forget Him who makes us lie down in green pastures and restores our souls.
---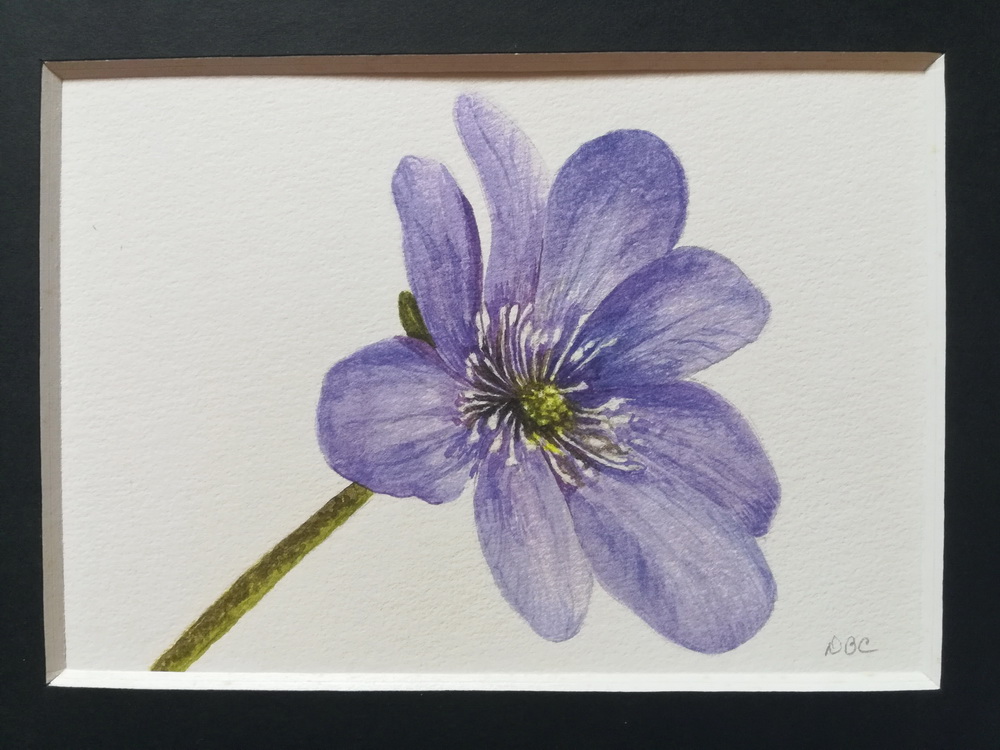 Anemone means 'Wind flower.' These flowers flutter in the breeze. I would love to see a whole valley with these beautiful flowers waving in the breeze. There are more than 200 varieties, in all colors, shapes, and sizes. Doesn't that sound like us? We come in all colors, shapes, and sizes. They are said to symbolize love and loyalty. We are part of a great number who love and are loyal to our King. Let's continue to spread our influence.
---
I finally knuckled down and took a full watercolor tutorial from Anna Mason. She's a famous watercolor artist and teacher for botanical watercolor. What I learned is that there is no shortcut to this kind of art. It was a very slow process of very watery blends of color one layer over another over another. There were subtle changes in tone and hue, but the main lesson was patience!
None of us really like to practice patience, but most of God's greatest work in our lives takes time. It is done one almost transparent change at a time over and over and over until the beauty of His life can be seen in our human frame. Let's not try to force His hand. We'll only mess it up.